Experience the benefits of a Risk Assessment Application
The development of a Risk Assessment Application allows legal firms to assess risk in a way that is efficient, digitized, and accurate. Build your own app within days and ensure safety and security throughout your organization and risk management processes - be it in your products, services, or workplaces.
Background
Often risk assessment processes are less than ideal: requiring an unnecessary amount of time and manual auditing. Risk management and risk assessments are often done using time-heavy and convoluted manual processes which are error-prone, inaccurate, and don't allow for the easy gathering, digitization, and analysis of data.

For risk managers, security teams, and other stakeholder in the risk assessment process, you want to provide applications and automated workflows allowing you to audit and oversee which risk assessments are outstanding, in progress, or completed. Meanwhile, you want to ensure that the right people are notified of any possible risk exposures at the right time. The way to ensure this is through a risk assessment application, enabling you to take a risk based approach.

Using the Betty Blocks platform, legal firms and departments can custom build risk assessment or risk management solutions, automating and digitizing a crucial process. This allows all your risk assessments to be done on one digitized, fully integrated, configurable, and customizable LCNC platform.

Efficient
Increased efficiency for everyone at any point in the risk assessment process: those in charge of providing the data, assessing the risks, flagging or notifying any potential risk exposures, or overseeing and auditing the entire process.


Save time by removing any time-heavy and inefficient mechanisms for risk assessment. Risk assessment is done at a fraction of the time it would take to do it manually.
Digitize the process instead of manually assessing risk through extensive paperwork, filling in forms, and reporting.


Establish an adjustable solution that can be customized and changed in accordance with your organization's changing needs.
Provide real-time insights. The moment that anyone in your organization requires data or analytics, or has to report potential risks and risk assessments to stakeholders, this information is available immediately.
Digitized
Through a digitized risk assessment application, data is easily audited, gathered, analyzed, shared, and reported.


Provide digital information to anyone at any point, allowing managers to audit and oversee the risk assessment. This, too, can be presented to applicable stakeholders and shareholders.
Ensure that your risk assessments are fully compliant by design through built-in controls and checks.


Centralize and secure your risk assessments and allow your entire organization or clients access when necessary.


Customize and adjust your digitized risk assessment according to changing needs. Through the Betty Blocks platform, applications and solutions are specific and bespoke, catered to your organization's needs.
Accurate
Remove error-prone activities. With any manual tasks come human inaccuracies and mistakes which are removed through digitized risk assessments.


Stop guessing or assuming. Analyses no longer need to be guessed, and risks no longer have to be estimated. Instead, real-time data is used to calculate any actual or potential risks.
Generate bespoke customer reports which are ready for (internal or external) inspection, without any manual intervention.


Save resources and time in both the short- and long term. Information is constantly complete and up to date.


Automate risk identification and notification. Exposure is done automatically and immediately.


App Development The Betty Blocks Way!
1. Plan
The first stage: understanding what needs to be built and what the initial steps to a successful application are.


The Betty Blocks Platform empowers new types of (citizen) developers. This gives everybody access to join the process. Join a workshop or our online academy and learn how to create your first workflow and wireframe in hours.
2. Build
The most exciting part: the moment where everyone can contribute.

Through Betty Block's simple drag and drop functionality, you can create your interfaces. Without writing a single line of code you can configure workflows, visually define how you want to store your data and customize your application.
3. Release
Once you've built something it is time to delight your audience.

By running tests in various sandboxes people are encouraged to play around without having a fear of breaking things. Everyone satisfied? Great! Release to production and instantly share your work with the world.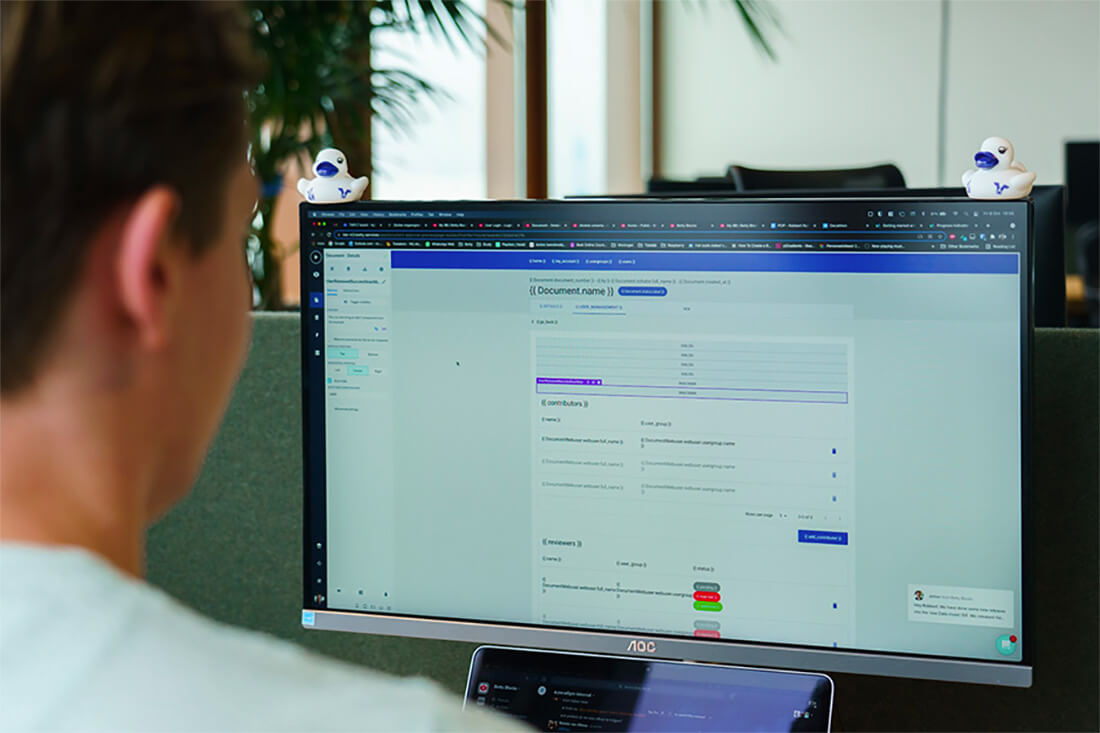 Product features
Dynamic questionnaires
Customizable workflows
Automation of approval requests
Bespoke document generation
Programmable scoring, assessments, and decision making