What is No-Code?

As the name suggests, no-code application development is a method of building applications without having to write code. This is made possible by no-code development platforms, which enable builders to drag-and-drop pre-configured blocks to create advanced, enterprise-grade applications.
"Programming isn't about typing, it's about thinking," says GitHub CEO Chris Wanstrath. No-code application development removes programming as the barrier between ideas and solutions.

It makes it possible to build applications without knowledge of coding, no-code platforms leverage technology to empower the ability of humans to innovate, rather than impede it.
Dispelling the myths
There are three questions we hear from time to time that stem from misconceptions about no-code.


Question 1: Is no-code restrictive?
Answer: Betty Blocks' no-code platform is not restrictive in any way.
When people bring up this question they are essentially concerned that they will be limited to using the pre-configured blocks only. With Betty Blocks, this is not the case. Any pre-configured block in Betty Blocks' platform can be modified with code, and new blocks can be created with code. Basically, with Betty Blocks, developers can code to their hearts' content, with the difference being that business-side employees with no programming experience can bring their unique insights to the process.


Question 2: Will no-code software replace experienced developers?
Answer: No.
Although non-developers can use Betty Blocks to contribute to building enterprise-grade applications, experienced- and professional developers are still crucial to the process. Instead of replacing experienced developers, no-code platforms enable them to provide governance and to focus on higher-level tasks like security and scalability. It means experienced developers can step away from merely keeping the lights on and perform the kinds of tasks that use their extensive skills and experience most effectively.
Question 3: Can no-code development platforms build apps that add business value to end users?
Answer: No-code platforms certainly can do that!
Thanks to close collaboration with IT, and provided that no-code platforms have an escape hatch that allows for traditional coding too, Citizen Developers and IT professionals can build enterprise-grade applications that offer great business value to its end users.
Top 3 benefits of No-Code application development
No code solutions have a proven track record of being much more effective than their traditionally-developed counterparts. Here are 3 reasons why:


1. Align business and IT
No-code facilitates the ultimate partnership between business and IT, with both sides making the most of their unique skills and experience. Find out more in this short video featuring Forrester expert, John Rymer.
2. Bring products to market faster
The drag-and-drop functionality of no-code enables rapid prototyping, which in turn means products can be brought to market much faster than via traditional programming. Check out this webinar in which we pit a no-coder and a programmer against each other in a test of speed.
3. Enable citizen development
No one understands business processes and customers better than business-side employees. Including this unique insight in the software development process is invaluable. It's called citizen development and no code makes it possible.

To summarize, no code software is intended for enterprise organizations who are serious about building advanced solutions, who are innovation-focused, and who want to be leaders in their fields. It's a means of addressing the challenges in using traditional development methods alone, and of adding new benefits and possibilities to the development process.

How it works
If you're new to no-code software development, you might be wondering how it's possible to build advanced applications without writing a single line of code. Whilst the basic idea is the same behind most no-code tools, there are of course differences between vendors. Naturally, we know the most about our own application development platform, so we'll show you the no-code ropes from a Betty Blocks perspective.
Here's the secret: Betty Blocks programmers write the code that lays the foundation of the visual modeling elements that you then build your applications with. Essentially, when you build with a no-code platform, you are building with code, it's just already been written for you.
No-code with an escape hatch
Betty Blocks stands out from other no-code tools by being suited to citizen development whilst also boasting capabilities powerful enough to build secure, enterprise-grade applications. Unlike most no-code platforms, it's no-code with an escape hatch.
What do we mean by this? While it's not necessary to write code whilst using advanced coding skills to develop advanced applications, Betty Blocks also supports JavaScript or HTML integrations for added customization. Effectively, it's as agile in coding flexibility as in implementation.
The components of a No-Code platform
A no-code platform is made from the following key ingredients and advanced features: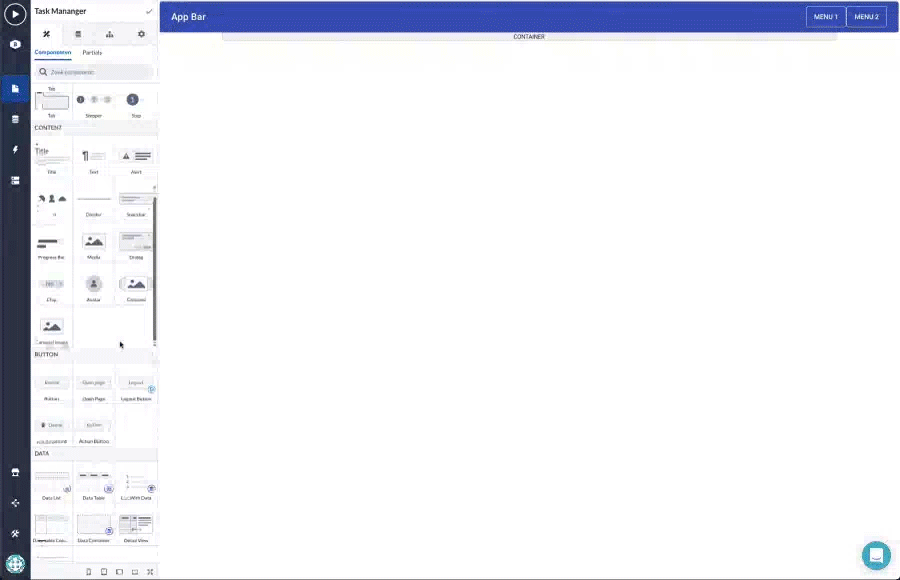 Page Builder
Use the drag-and-drop interface to rapidly construct web pages to your exact specifications. From header to form to table, simply drag the blocks into place and instantly see how your page looks on desktop, mobile, and tablet. Feeling adventurous? Combine it with any JS framework – like Angular or Vue.js – for even more freedom and flexibility.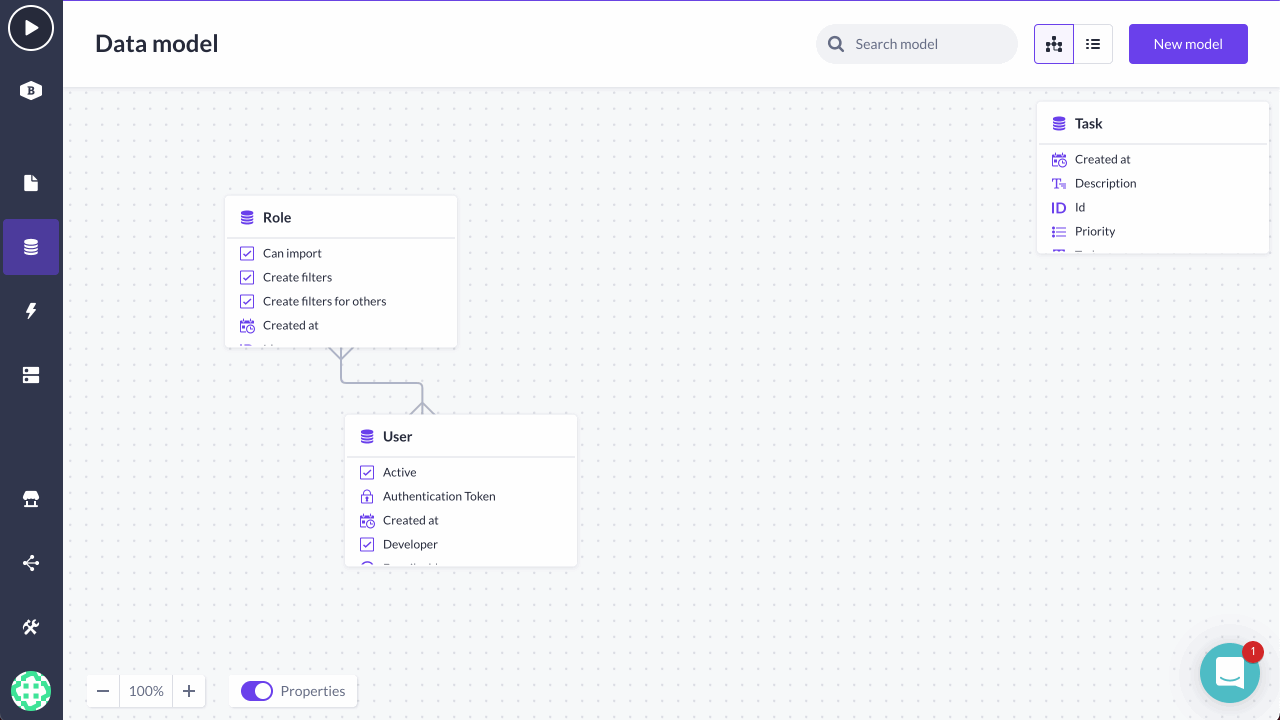 Visual modeling
We replaced complex code for a straightforward, drag-and-drop interface. What can graphical user interfaces do for you? It makes it possible to process and manage your data easily through visually modeling. Fast, fun, and easy, with endless possibilities.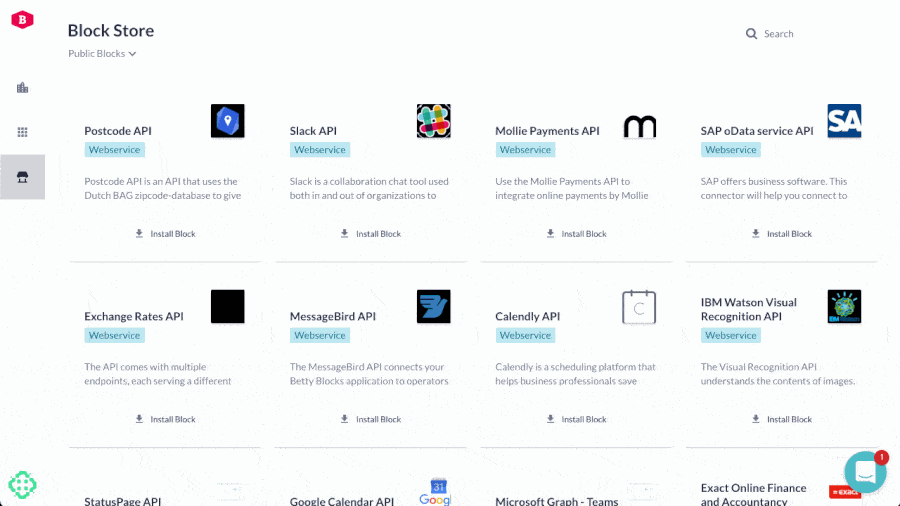 Reusability
(Small) parts of an application can be reused in new applications. Fast development is great, but not developing at all is even better. Plus, you can contribute to the community by making your block available in the Block store for others to (re)use.
Use reusable components to create a modern layer around outdated legacy systems, or enhance core systems by creating functionalities missing in those systems, and enable innovation.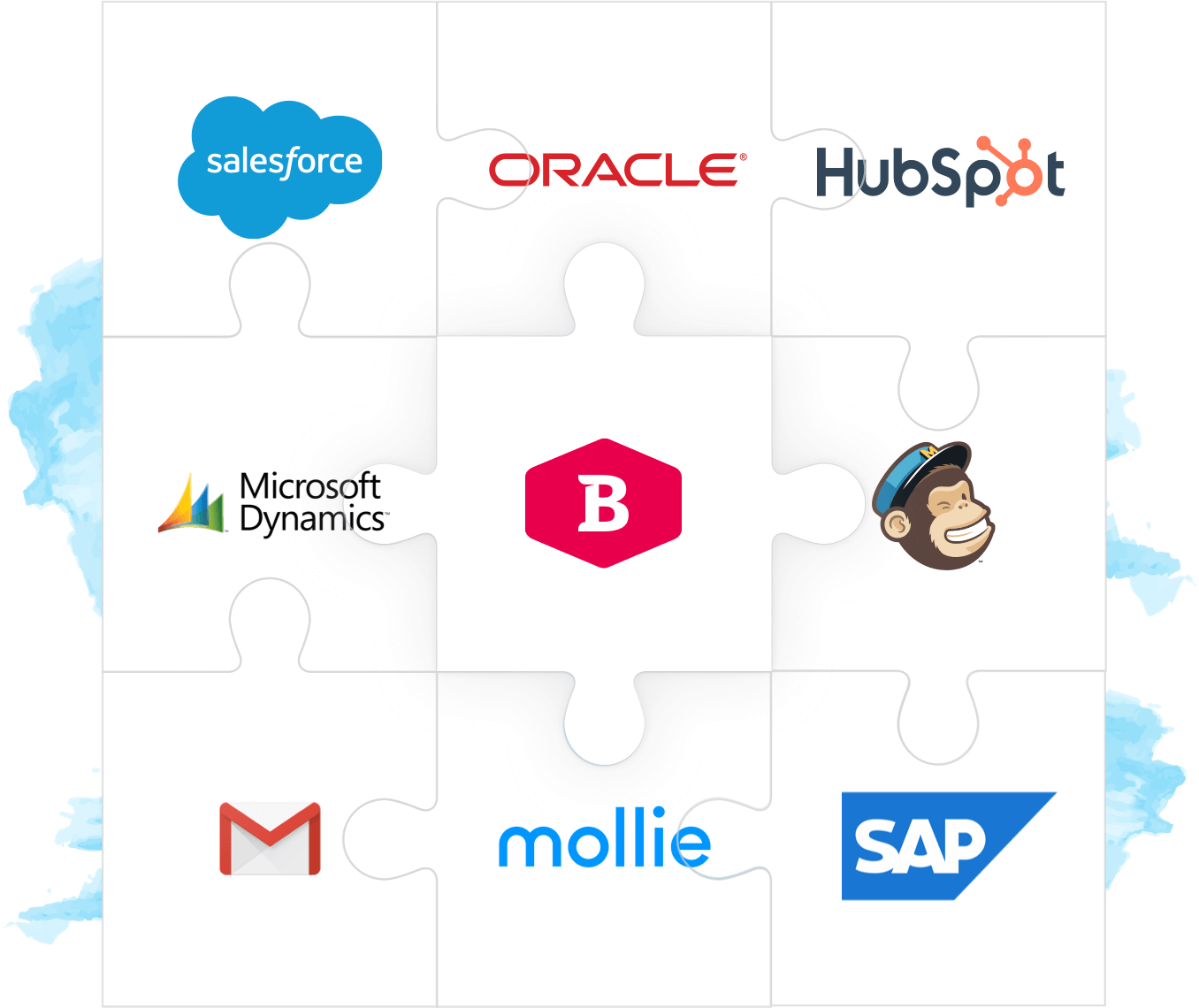 Integrations
Easily integrate with all kinds of web services like Slack, Twitter, Mollie, or Ideal. The platform fits into every enterprise IT landscape and provides modern possibilities for legacy systems.
On top of that, Betty Blocks makes it possible to link multiple systems (through interfacing) and enables the seamless integration of API's and web services that extend the functional scope of your overall system.
What kind of apps can I build with No-code?
You can build three kinds of applications with a no-code development platform like Betty Blocks:
Back-office (database) applications;
Web applications;
Mobile applications.
All Betty Blocks applications are hosted and run 100% in the cloud. Discover examples of applications built without a single line of code in our App Gallery.
Back-Office Applications
Remove redundant tasks and optimize internal processes with powerful back-office applications. The back office is used for managing the data in your application. Applying the back office, you can easily view, create, update, or delete records from your data models in a rather convenient way. It is intended for use by internal application users only.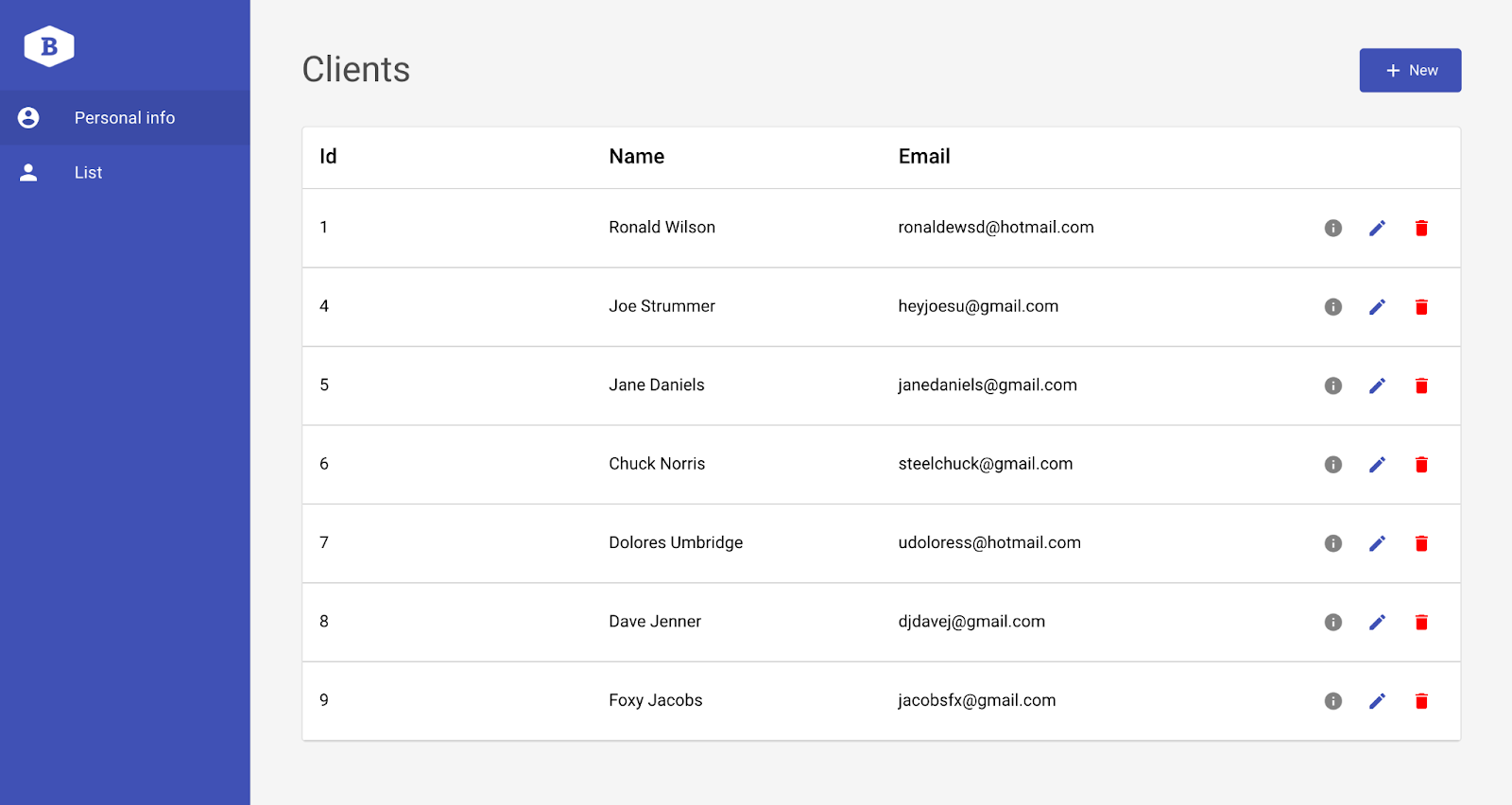 Within our platform, the back office comes in as a page template that can be set up via the page builder. This allows users to build their databases in a visual way and even gives them a branded look and feel. It is represented as a page with a sidebar, data table, and a slide-out window (with tabs)
Portals and Web Applications
Leading enterprises use no-code software to build advanced customer-facing applications. A web application bridges the gap between your back office and front office for applications that are built to be used publicly.
The web application type uses both the back office and web module. Why? The web module is used for a customized user interface and the back-office module is used to administer your data.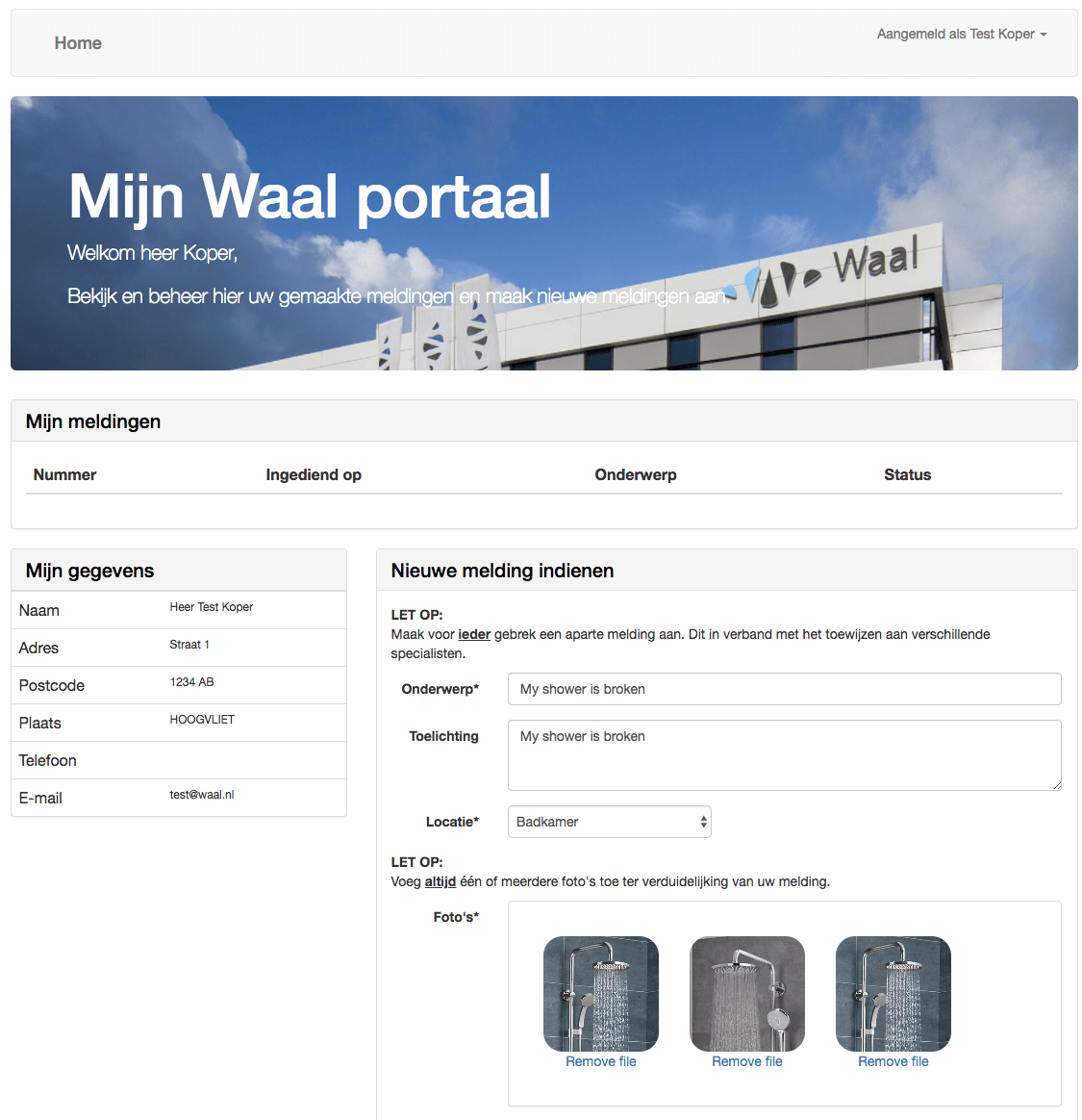 This way, the web application enables you to create your own user interface (such as web pages) together with ready-made back-office features. You can use your own HTML or our WYSIWYG (What You See Is What You Get) page editor, or insert your favorite JS framework to build with. Customize in line with your organization's brand by using your own style sheets.
Mobile Applications
Customize the front end specifically for mobile devices such as tablets and smartphones, rather than large desktops. The application is web-based and you have full access to all elements of the web browser. No software installation is needed.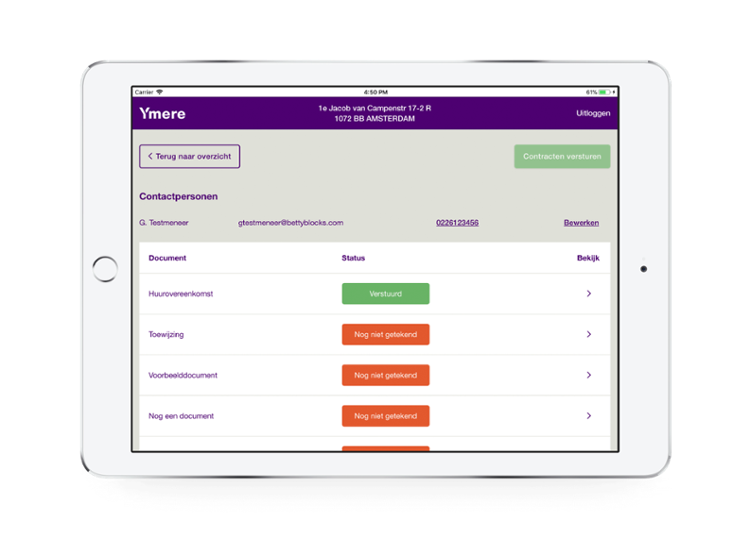 Just like with web applications, you are completely free to create any mobile page you need in HTML, CSS, and JavaScript development. Distribute it like a 'regular' web application or in the same way native applications are distributed. The mobile application always includes a back-office module to administer your data.
Discover applications built with no-code
Now you know what kind of applications you can build with a no-code platform, it's time to make it more visual for you. In our App Gallery, we show you the possibilities of no-code and the unique features of each application. Take a look and discover how no-code solutions can help your organization achieve its goals. Discover the App Gallery.
Why No-Code is the future of application development

In the interview above, John Rymer (Vice president, Lead analyst for Forrester Research) & Chris Obdam (CEO Betty Blocks) talk about the State of No-Code Application Development, the need to change in leadership to facilitate Enterprise Innovation and how the Citizen Developer could well be the Next Step for No-Code
Industry experts agree: No-code is driving the future of rapid application development.

The demand for applications is so high that we simply cannot keep up – there are not enough software developers available to meet the growing need. This is a problem we hear about constantly in our conversations with enterprise organizations – business needs are not aligned with the capacity of the IT department – and no-code is the solution.
Expand your developer pool
By enabling business-side employees to build applications under the governance of IT, your developer capacity naturally increases. Business developers and other non-programmer roles are able to step in to meet the demand for faster application delivery using agile, scrum, and collaborative development methods. Find out more with our whitepaper: The Rise of the Citizen Developer.
Align Business and IT
You know how it goes: the business needs a solution, IT takes the solutions and creates the first prototype months down the line with little to no input from the business side at all. And, by the time the solution is ready to be brought to market, the goalposts have changed. A successful no-code strategy creates synergy between the business and IT, and supports a culture of shared language and goals. It maximizes the full potential of each department, improves communication, and generally makes projects more inspiring for all involved!
Avoid Shadow IT
Shadow IT is the creation and use of technical solutions outside of IT's governance and authorization. This creates security threats and drains company resources. In many cases, shadow IT is extremely difficult to just put a stop to – people will always find a way to create the solutions they need to perform at their best. By sanctioning the use of no-code tools, IT provides a regulated environment from the start and has full control over the business' software activities.
Crush IT Backlog
IT is swamped keeping up with the maintenance of existing applications. Delegate backlogged projects to citizen developers so that IT can focus on more critical concerns, freeing up space for both software developers and citizen developers to pursue innovation.
No-Code vs. Low-Code
Low-code and no-code development platforms both use visual modelling to increase the development speed. While they have overlap, there are quite some distinctions between the two. Industry analysts have identified two main segments:
1. Restrictive no-code — for business users to build simple apps
Restrictive no-code exists for a long time already, especially for Citizen Developers. You can think of Wordpress as a no-code tool for example, since it allows its users to build websites easily without the use of code. Businesses already use these traditional no-code platforms, but often they are limited to simple applications. If your aim is to build advanced products and improve entire business processes, this requires a little more than what you can accomplish with a restrictive no-code platform.
2. General purpose low-code — to speed up existing development processes
General purpose low-code development platforms are intended for professional developers, aimed to speed up the development time of already existing software applications and IT infrastructures. This can be especially beneficial if you have a team of .NET or Java developers at your disposal, but they represent a significant barrier for non-developers and don't facilitate Citizen Development.
Recently, a new hybrid variation entered the market:
3. Citizen Development — for advanced applications by business and IT
A Citizen Development platform meets right in the middle, giving you the best of both worlds. It allows to create advanced and secure applications with the business and IT working together in a great way. The software is built so it can be used by anyone in the business, instead of just by your existing IT developers. This way projects can be kickstarted and implemented by a new group of no-code developer under the supervision of Central IT.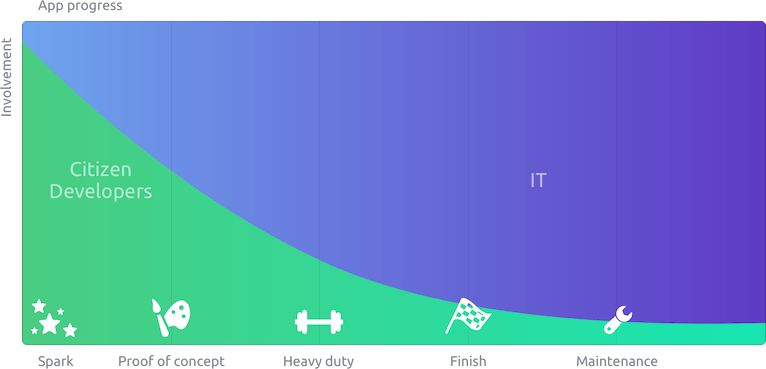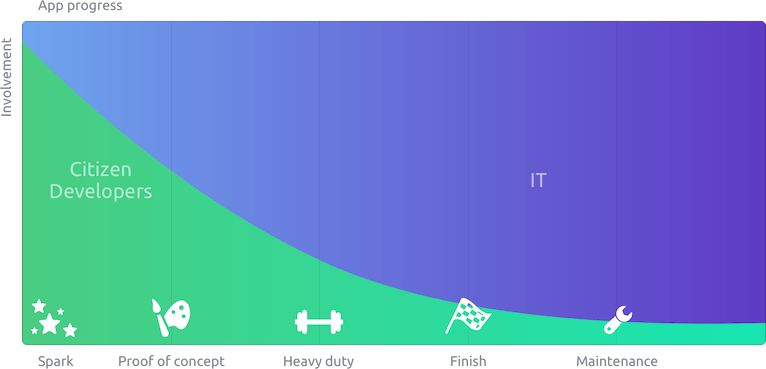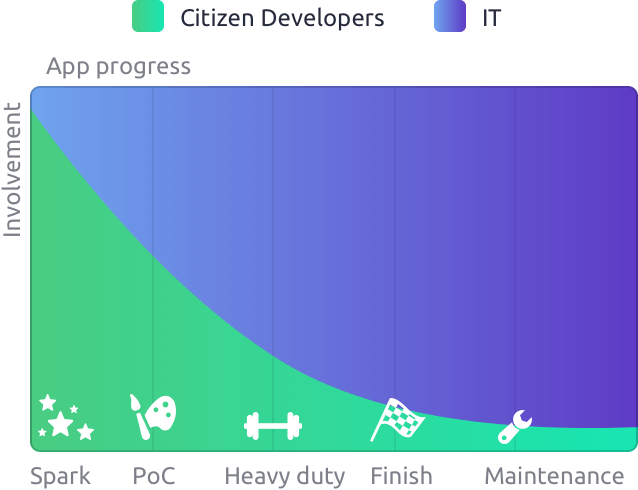 The evolution of No-Code Low-Code platforms
The image below shows the evolution of high-productivity toolsets like no code- and low code platforms. It shows that low code offers a lower speed than no code (because there is more programming involved). Subsequently this also impacts innovation.

Betty Blocks is a citizen development platform. This means it can be used as both a low code or a no code platform depending on your organizations needs and goals.
Citizen development: Unlocking your workforce's full potential
To get the most out of your innovation potential, you may need the third option. Here's why.
In contrary to the traditional forms of low-code and no-code, Citizen Development is about more than developing low-profile applications for business users or simplifying processes for developers. Although its functionality allows for this too, Citizen Development is more than just a platform for app development.
Besides the fact that it is about speeding up development, it's about empowering your entire workforce to work towards stellar solutions. It is a movement. A way of thinking that everyone in your company can employ. A continuous drive towards innovative business operations.
No code platforms and Citizen developers go hand in hand. In terms of technical requirements, a Citizen Development platform is a no-code platform with a central IT strategy. It builds a bridge between business users and IT professionals by offering the latter the option to personalize applications using code, and by giving the former central support and governance from IT.
Citizen developers: Attract a New Kind of Developer
Low-code platforms are often pitched toward developers as a tool to make their work much faster. No-code can do this too, but also opens the door to a new type of developer: the citizen developer.
Citizen developers have an aptitude to use tools to their advantage to find solutions, but don't need intensive training. Many are digital natives who grew up with and understand the value of software, so they are open to learning and implementing new tools that increase productivity and assist their workflow.
The Ultimate Guide to No-Code
No-code technology supports the entire digital transformation process, from idea to experimentation to solution to innovation, by facilitating the effective and efficient implementation of a continuous stream of new ideas. With no code, your organization can easily implement or transition to an agile development strategy. No-code allows users to rapidly develop new solutions to transform business processes and meet ever-changing customer needs.
No-code development is about more than just the platform or even the technology. It's about putting the power of innovation into the hands of your entire organization. Our comprehensive whitepaper, The Ultimate Guide to No-Code, dives into everything there is to know about no-code. From how no-code works to practical implementation cases from around the world.