Experience the benefits of a Case Management Tool
Through a custom built Case Management Tool your law firm optimizes, elevates, and differentiates its workflows and processes. Create a powerful tool which streamlines all elements of managing cases - from intake to managing your matters, deadline-tracking, and communication - making the delivery of services fully bespoke, efficient and transparent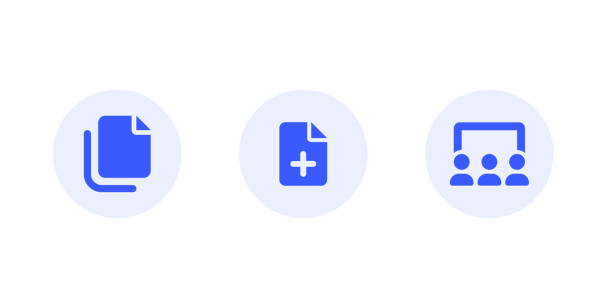 Product capabilities
Document management
Document generation
Data gathering and review
Milestone tracking
Task management
Calculations
Scheduling and calendar functionality
User capabilities and permissions management
Client and third party access
Integrations with existing systems
The power of a Case Management Tool
A Case Management Tool digitizes and streamlines crucial elements within the case management workflows. The tool is a centralized and digitized place to collect, store, track, and manage cases - enabling legal firms to efficiently collaborate internally and externally. As a result your firm's case management is secured, governed, and elevated.

With Betty Blocks, your firm can create a Case Management Tool with workflows, tasks and milestones specific to the various types of cases typically managed by your organization. When logging into the tool users will be able to select a specific type of case. Once classified, the tool integrates all the right workflows and requirements for the case, thereby streamlining and controlling workflows.

A Case Management Tool also functions as a client portal, offering digitized services to your clients and eliminating time heavy back-and-forth communication. Through the tool clients are provided with direct access to all updates, records, information, and contact details regarding their cases and progress. With automatic notification systems clients are kept informed without needing to reach out for status updates and questions. By integrating with a billing system, clients can check which services have been performed and their associated WIP and billed costs. Customer support thus becomes fully transparent and efficient.

By building with Betty Blocks your firm can create a fully bespoke Case Management Tool which fits all your organization's requirements. Features such as document management, generation, and reviewing as well as calculations, scheduling, billing systems, and notification systems can be integrated into the tool. As a result your firm established a Case Management Tool that maps onto your exact needs.

Through Betty Blocks's integration capabilities your firm can build a Case Management Tool around your existing document management systems and data sources. Through integrating with platforms like iManage your Case Management Tool is backed by your existing documents, systems, and information - building an innovation layer around your existing systems.