Experience the benefits of a client portal
Through a custom built Client Portal your law firm differentiates and improves its client support and services. Create a self-serve tool which mediates the client relationship and makes the delivery of services efficient, transparent, and fully customized.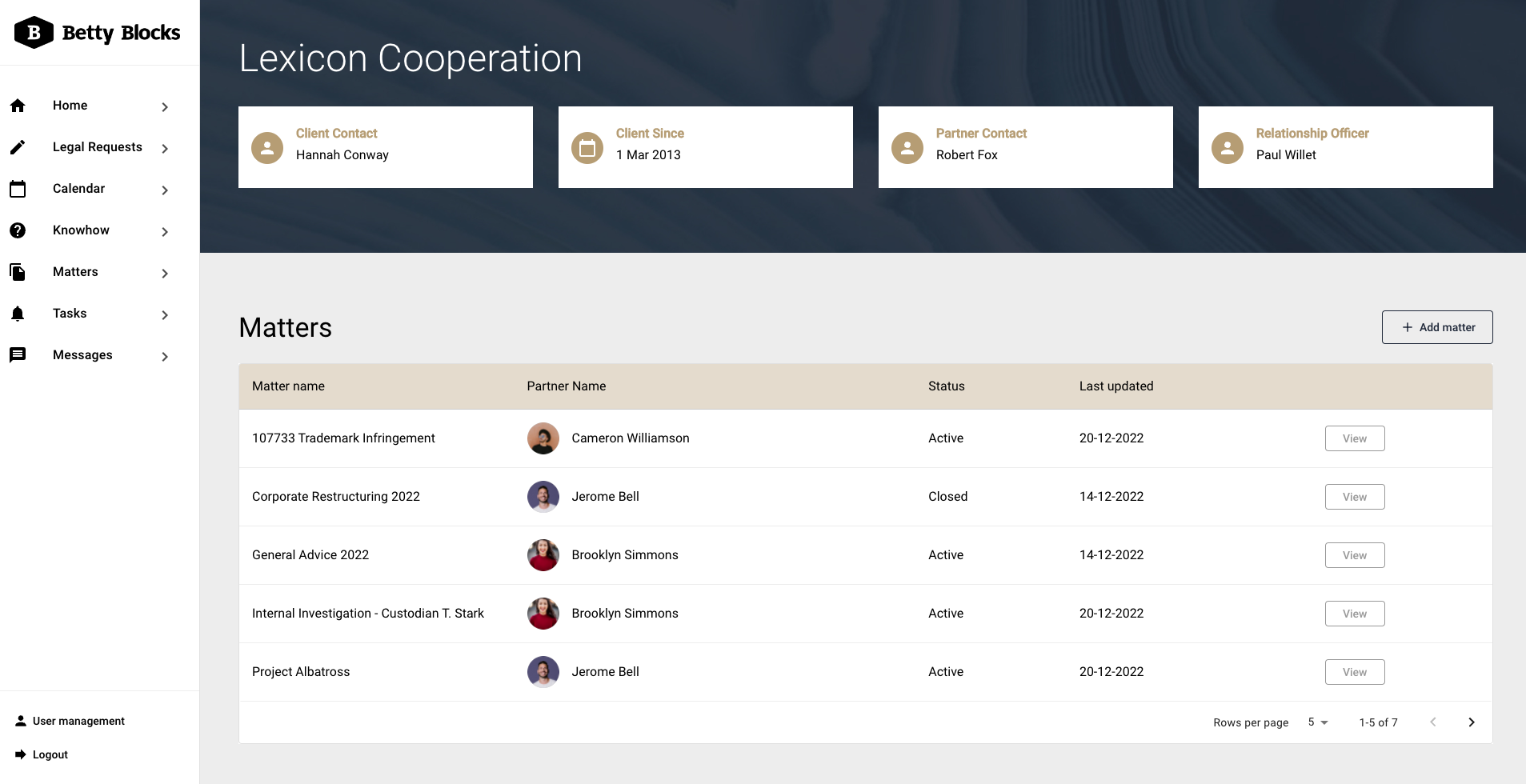 Product features
Legal requests
Knowhow
Matter management
Mutual calendar
Task management
Messaging
The power of a Client Portal
A Client Portal digitizes and optimizes the support and services provided to clients. With this tool clients are provided access to all matter information and documentation, expertise, progress, make requests, and interact with key associates.

A Client Portal thus enables clients to stay fully informed, updated, and involved with their own legal matters. As a result a Client Portal eliminates extensive back-and-forth emailing to request services, gain access to a document, post a question, or receive an update. Instead, clients are supported with 24/7 access to all necessary information and resources, and provided with automatic digital updates.

Meanwhile your firm is provided with a tool to instantly respond to all customer requests, provide full transparency and clarity, and streamline client support. Additionally the Client Portal secures and safeguards private client data and documentation, eliminating risks of sharing sensitive information over email.

By building with Betty Blocks your firm can develop a custom Client Portal which incorporate all the features required by your firm and clients. Features such as legal intake, knowhow, matter management, document sharing, mutual calendars, task management, and messaging can be added onto the tool. As a result the functionality maps perfectly onto your firm and your clients' requirements and needs.

Betty Blocks' integration capabilities enable your firm to streamline all your existing information, documents, and systems from your other tools and databases into your Client Portal. Through two-way, one-click integrations you build an innovation layer around your existing system, and optimize your internal processes.