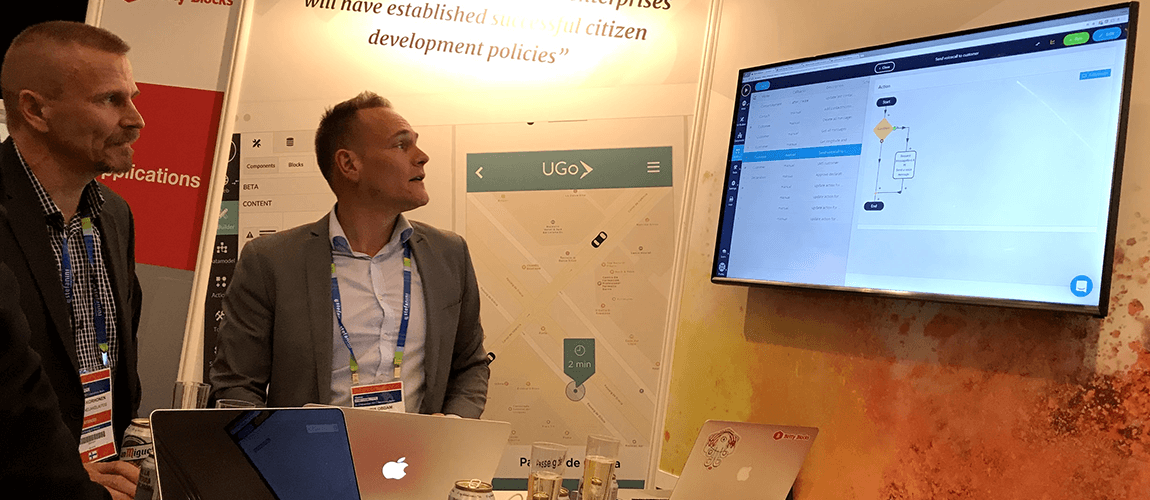 Come visit our booth at the Gartner AADI Summit and see your idea come to life
Bring your own idea to our booth
We're putting the keys to innovation in your hands. Let us know your biggest ideas and join us in the driver's seat for a fully customized live demo at our Betty Blocks booth.
Make an appointment
Why should you attend
AADI is a strategic-level event focused on the core of digital business: Balancing IT delivery against business strategy. Join for more insight on how to: Manage application strategy, blend different application architectures cohesively, adopt different development styles, and integrate all of these components successfully into IT solutions for business. Connect with the people driving innovation in digital business technology.
Why make an appointment?
Tell us what you would like to see or what it is that you're looking for and we will give you a 15 minute, personal demo to demonstrate the platform, based on your ideas.
During the 15 minute demo you will:
See your own innovative ideas come to life
See the power of no-code, up close and personal
See how you can execute digital transformation without code
What's the event about?
Get to know the most cutting-edge research, up close and personal: Understand the impact and opportunities of Robotic Process Automation, Chat Bots, Integrating IoT, Blockchain, AI and moving from Mobile to Multiexperience. Get fresh insights, experience analyst interaction, test with the solution showcase and create peer engagement.
From Theory to Practice: Citizen Developers in Action
Citizen development: Everyone is talking about it, but how do we translate the talk into action? Recognising, embracing and enlisting the citizen developer in your company requires strategy. Chris Obdam, CEO of no-code platform Betty Blocks, provides a map and the blueprints to build the structural support these citizen developers need to help companies innovate.
Speaker

Chris Obdam, CEO of no-code platform Betty Blocks

Date & time

Date: Monday 4th June
Time: 15:20 – 15:40

Gartner Symposium/ITxpo 2017:
The Rise of The Citizen Developer
Where

4-5 June, Park Plaza London

When

Monday June 4th - 7:30 - 15:45
Tuesday June 5th - 7:30 - 15:00

Booth number

t.b.d
Who's attending