Experience the benefits of a legal services request application
The development of a Legal Services Request Application allows law firms and departments to digitize and streamline their incoming legal service requests. Automating this process eliminates the unnecessary expenditure of resources and time, cuts costs, and increases customer satisfaction.
Background
The ability to properly process, register, track, delegate, and prioritize the large volumes of requests law firms and departments receive every day is crucial to their workflow and optimization. Automating and standardizing your legal services request process benefits your clients and your company alike. Through a digitized and automated process, your firm saves countless hours of error-prone manual work. Meanwhile, as requests go through an application that vets and standardizes them, proper compliance and governance are ensured. Requests are consistently sent to the appropriate department or person, while additionally capturing all the prerequisites required to start a service. Productivity is overall increased as your legal professionals focus on more pressing work.

The creation of a customer-facing application allows your clients to receive the highest quality legal assistance and services quickly, efficiently, and easily. Businesses and clients can make requests directly, rather than time-consuming emails, phone calls, or text messages. Through a digitized self-service portal, clients approach the right person, and all requests for legal help, legal questions, or services are seen, processed, and prioritized. Clients receive automated updates on their requests without involving a legal professional, thus ensuring quick responsiveness as well as equal access.

Using the Betty Blocks platform, legal firms and departments can custom build a legal services request application, automating and digitizing a crucial process. This allows your request to go through one standardized, integrated, and customizable LCNC platform.
Innovative
Future-proof your company by investing in innovative customer-facing applications

which combine tech abilities and legal professionals' expertise, elevating your customer experience.


Provide your customers with digitally-enabled, quick, top-quality services which remove any complications or unnecessary personal interactions.


Increase customer satisfaction by allowing your clients to make direct and efficient legal services requests through your accessible, automated self-service application.
Allow clients to self-check the status of their requests or case without waiting on a legal professional's updates.


Free up time and resources in your firm or department, allowing legal professionals to make better use of the time that would have been spent processing and prioritizing requests. Instead, your lawyers work together with your innovative tech solutions to provide the best client offer.
Efficient
Increase efficiency throughout your legal services request process: requests are both submitted and processed at a fraction of the speed it takes to do this manually.
Optimize legal operations and the requests process by automating end-to-end processes. This enables you to assess, check, prioritize, allocate, and receive requests automatically.
Minimize time spent fixing mistakes or human errors inevitable in manual work, reducing time and resources allocated to request handling.


Register and track each request through the application, never letting anything fall between the cracks.


Document, analyze, and report on your request by filtering the information readily available on your application.
Effortless
Create an application in which every component can be used and customized with ease, benefiting your clients and employees.


Increase accessibility with a simple user interface and effortless user experiences.


Customize and adapt your application in accordance with your organization's changing needs.
Add any functionalities to your application, such as enabling analytics and reporting, creating internal approval workflows, or integrating other applications to optimize your requests.


Integrate your application with your existing infrastructure, systems, and applications automating the process end-to-end.
App Development The Betty Blocks Way!
1. Plan
The first stage: understanding what needs to be built and what the initial steps to a successful application are.


The Betty Blocks Platform empowers new types of (citizen) developers. This gives everybody access to join the process. Join a workshop or our online academy and learn how to create your first workflow and wireframe in hours.
2. Build
The most exciting part: the moment where everyone can contribute.

Through Betty Block's simple drag and drop functionality, you can create your interfaces. Without writing a single line of code you can configure workflows, visually define how you want to store your data and customize your application.
3. Release
Once you've built something it is time to delight your audience.

By running tests in various sandboxes people are encouraged to play around without having a fear of breaking things. Everyone satisfied? Great! Release to production and instantly share your work with the world.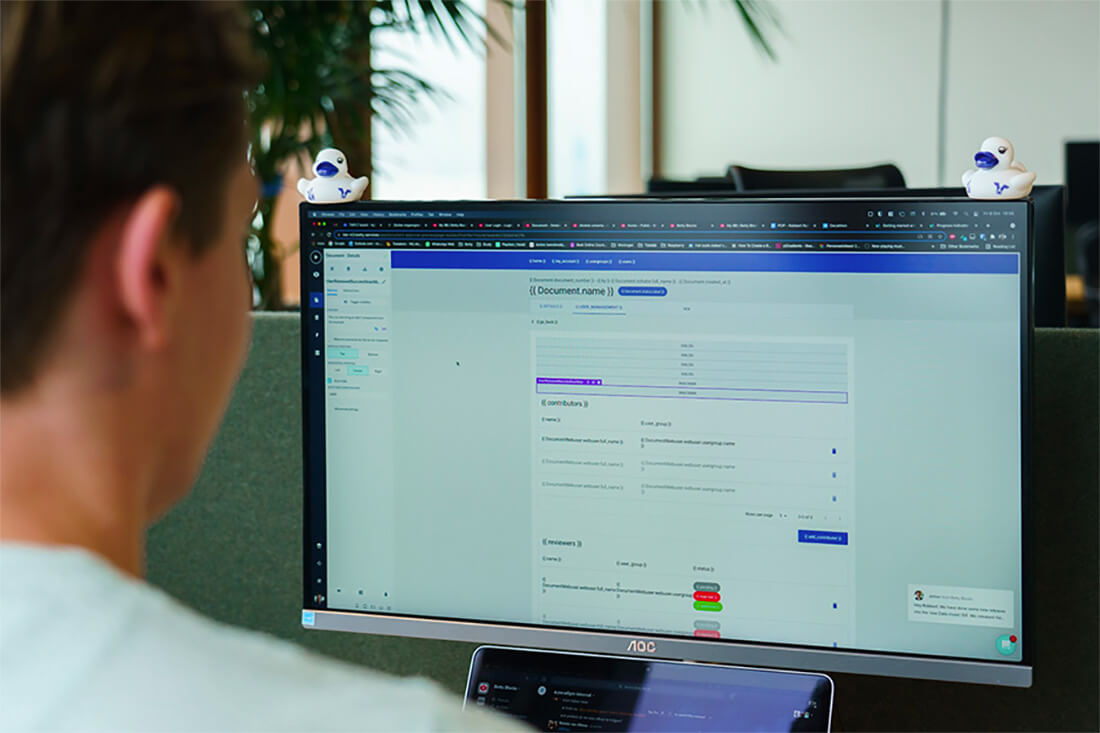 Product features
Dynamic and bespoke questionnaires
Reporting and analytic functionalities
Approval workflows
Request update notifications
Integration with existing applications