Experience the benefits of a DAC6 Assessment Application
Through a digitized DAC6 Assessment App, legal firms and departments can perform risk assessment and reports digitally, automating a time-heavy and crucial compliance requirement. This tool enables your company to combine human expertise with technological abilities, innovating and optimizing end-to-end.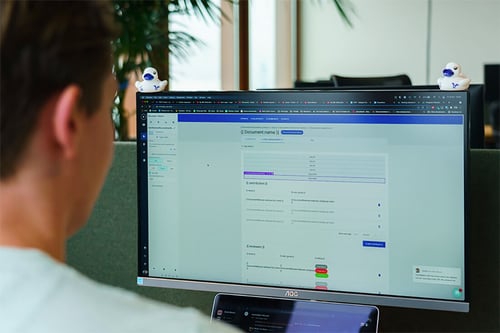 Product features
Standardized documentation
Dynamic data entry
Hallmark recognition surveys and questionnaires
Report and data automation
Integration with existing infrastructure
The power of a DAC6 assessment application
The European Directive Mandatory Disclosure Rules, also known as DAC6, is an EU Council Directive from 2011/2015. DAC6 is part of a collective effort from EU member states to increase tax transparency, decrease tax advantage, and identify any reportable cross-border arrangement with potential aggressive tax agreements. DAC6, signifies a time and resource-heavy reporting obligation with zero room for error within your legal department.

Through a DAC6 tool, legal professionals at your firm or department are provided with an app that accesses extensive tax knowledge, automates assessments of cross-border arrangements, and digitizes reporting for tax authorities - ensuring compliance. This removes the need for any time-heavy, costly, and error-prone manual work. The tool directs users through an interactive questionnaire, using this to assess compliance and reporting requirements regarding cross-border tax arrangements. The application then automatically determines and identifies any further necessary information or supporting documentation, while generating a report. Meanwhile, all of your assessments and reports are collected, recorded, and tracked in one secured, cloud-based database.

Using the Betty Blocks platform, legal firms and departments can custom build a DAC6 assessment tool that automates, governs, and optimizes a crucial process. This enables all your assessments to be carried out, reported on, and collected on one digitized, fully integrated, configurable, and customizable LCNC platform.