Experience the benefits of a DAC6 Assessment Application
Through a digitized DAC6 Assessment App, legal firms and departments can perform risk assessment and reports digitally, automating a time-heavy and crucial compliance requirement. This tool enables your company to combine human expertise with technological abilities, innovating and optimizing end-to-end.
Background
The European Directive Mandatory Disclosure Rules, also known as DAC6, is an EU Council Directive from 2011/2015. DAC6 is part of a collective effort from EU member states to increase tax transparency, decrease tax advantage, and identify any reportable cross-border arrangement with potential aggressive tax agreements. According to these regulations, taxpayers and intermediaries are accountable and responsible for assessing and reporting on cross-border arrangements bearing any of the characteristics of tax avoidance to local tax authorities. Businesses themselves, as well as any professional association relating to legal, tax, or consultancy services, are responsible for this process. DAC6, signifies a time and resource-heavy reporting obligation with zero room for error within your legal department.

Through a DAC6 tool, legal professionals at your firm or department are provided with an app that accesses extensive tax knowledge, automates assessments of cross-border arrangements, and digitizes reporting for tax authorities - ensuring compliance. This removes the need for any time-heavy, costly, and error-prone manual work. The tool directs users through an interactive questionnaire, using this to assess compliance and reporting requirements regarding cross-border tax arrangements. The application then automatically determines and identifies any further necessary information or supporting documentation, while generating a report. Meanwhile, all of your assessments and reports are collected, recorded, and tracked in one secured, cloud-based database.

Using the Betty Blocks platform, legal firms and departments can custom build a DAC6 assessment tool that automates, governs, and optimizes a crucial process. This enables all your assessments to be carried out, reported on, and collected on one digitized, fully integrated, configurable, and customizable LCNC platform.

Automated
Automatically assess and identify any reportable cross-border arrangements through one application.


Digitize your DAC6 compliance end-to-end through one application which assesses, reports, analyses, and tracks.
Eliminate any errors, delays, or oversights inevitable in manual work, using technology to innovate your legal operations.


Customize and build a bespoke assessment tool that integrates and incorporates any additional or necessary features
Optimized
Optimize your legal operations with a DAC6 assessment tool that combines your firm's human expertise with technological innovation.


Save time by allowing technology to take over a time- and resource-heavy process, thus freeing up legal professionals valuable time.
Maintain consistency and remove human interpretation or bias by running each assessment through an automated process that fulfills a reporting obligation.


Increase your client satisfaction by demonstrating that you are a subject matter expert, trusted advisor, and reliable entity.
Compliant
Ensure that you are always fully compliant with the DAC6 requirements and meet reporting obligations through an application that automates, optimizes, and secures the process end-to-end.


Maintain uncompromised quality and compliance of your DAC6 assessment and reports for tax authorities through an enforced standardized process and workflow.
Audit and govern through an application that makes the process fully digitized and transparent, based on tax information that is constantly up-to-date and accurate.


Safeguard all of your assessments and reports in one secured, compliant, governed, cloud-based application.



App Development The Betty Blocks Way!
1. Plan
The first stage: understanding what needs to be built and what the initial steps to a successful application are.


The Betty Blocks Platform empowers new types of (citizen) developers. This gives everybody access to join the process. Join a workshop or our online academy and learn how to create your first workflow and wireframe in hours.
2. Build
The most exciting part: the moment where everyone can contribute.

Through Betty Block's simple drag and drop functionality, you can create your interfaces. Without writing a single line of code you can configure workflows, visually define how you want to store your data and customize your application.
3. Release
Once you've built something it is time to delight your audience.

By running tests in various sandboxes people are encouraged to play around without having a fear of breaking things. Everyone satisfied? Great! Release to production and instantly share your work with the world.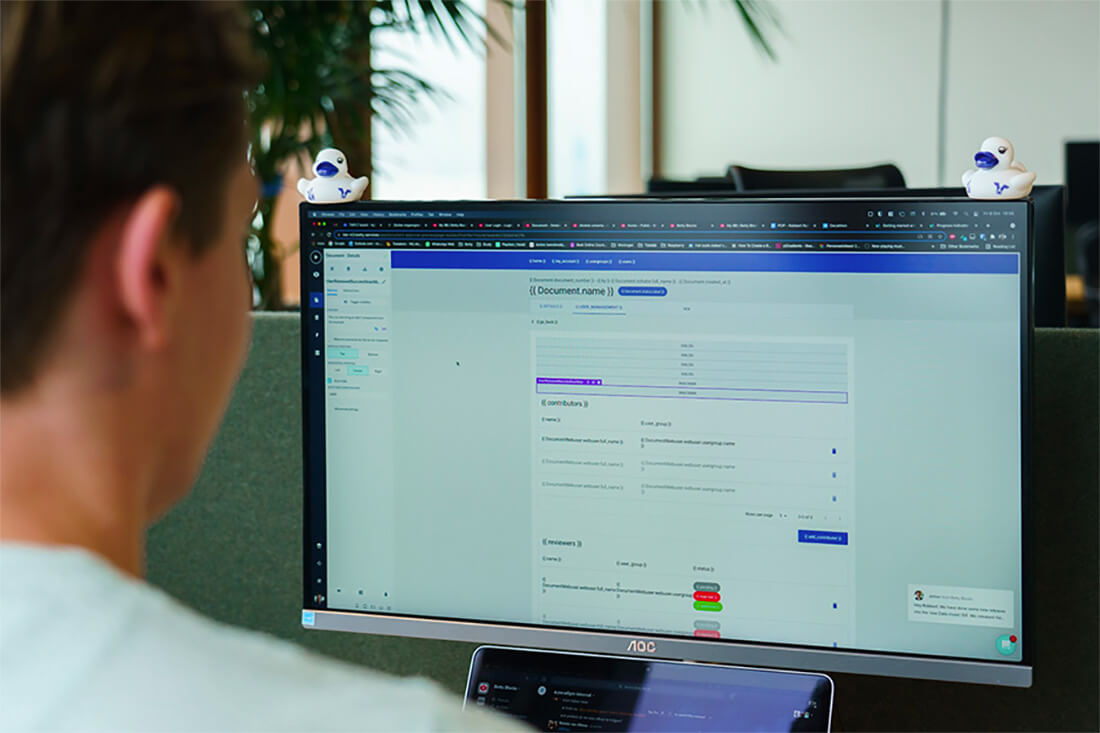 Product features
Standardized documentation
Dynamic data entry
Hallmark recognition surveys and questionnaires
Report and data automation
Integration with existing infrastructure