Experience the benefits of a Contract Review Application
Through a digitized Contract Review Application, legal firms and departments can use a tool that streamlines, speeds up, and enhances the contract revision process. Ensure that all contracts are reviewed by the necessary people, revised in a quicker way, and approved before sending through a self-serve solution which saves time and reduces errors
Efficient
Optimize your contract revision process through a secure, streamlined, and efficient application.


Decrease time spent on contract revision: assigning responsibility, sending documents and communication between knowledge holders, and waiting for approvals.
Eliminate inevitable human errors and oversights through an application that ensures that correct and updated versions of contracts are sent to the right stakeholders.


Assign and delegate contract review tasks to the correct knowledge holders for the most efficient, accurate, and high-quality document production.
Ensure that projects and contract reviews are completed and deadlines are consistently met by configuring deadlines into your application.
Automated
Standardize, streamline, and upgrade your approach to your contract revision process.


Simplify your contract revision and approval process through one centralized, user-friendly application.
Enable your legal team or department to deal with large volumes of contracts in need of revisions.


Track and oversee the status of all of the contracts on your revision dashboard: those waiting, in progress, or finalized.


Integrate with your existing technology infrastructure and applications to optimize your document revisions end-to-end.
Bespoke and secure
Configure your contract review application to your firm's exact needs, and secure and govern your revision process end-to-end.


Customize your contract revision tool to integrate specific criteria, deadlines, settings, and quality control.
Configure bespoke user capabilities and access to ensure information is always secure and viewed by appropriate parties.


Maintain consistent standards and reviewing policies throughout your contracts using a standardized process.


Minimize the risks of any confidential information or internal discussions being viewed by external parties, optimizing your data security.


App Development The Betty Blocks Way!
1. Plan
The first stage: understanding what needs to be built and what the initial steps to a successful application are.


The Betty Blocks Platform empowers new types of (citizen) developers. This gives everybody access to join the process. Join a workshop or our online academy and learn how to create your first workflow and wireframe in hours.
2. Build
The most exciting part: the moment where everyone can contribute.

Through Betty Block's simple drag and drop functionality, you can create your interfaces. Without writing a single line of code you can configure workflows, visually define how you want to store your data and customize your application.
3. Release
Once you've built something it is time to delight your audience.

By running tests in various sandboxes people are encouraged to play around without having a fear of breaking things. Everyone satisfied? Great! Release to production and instantly share your work with the world.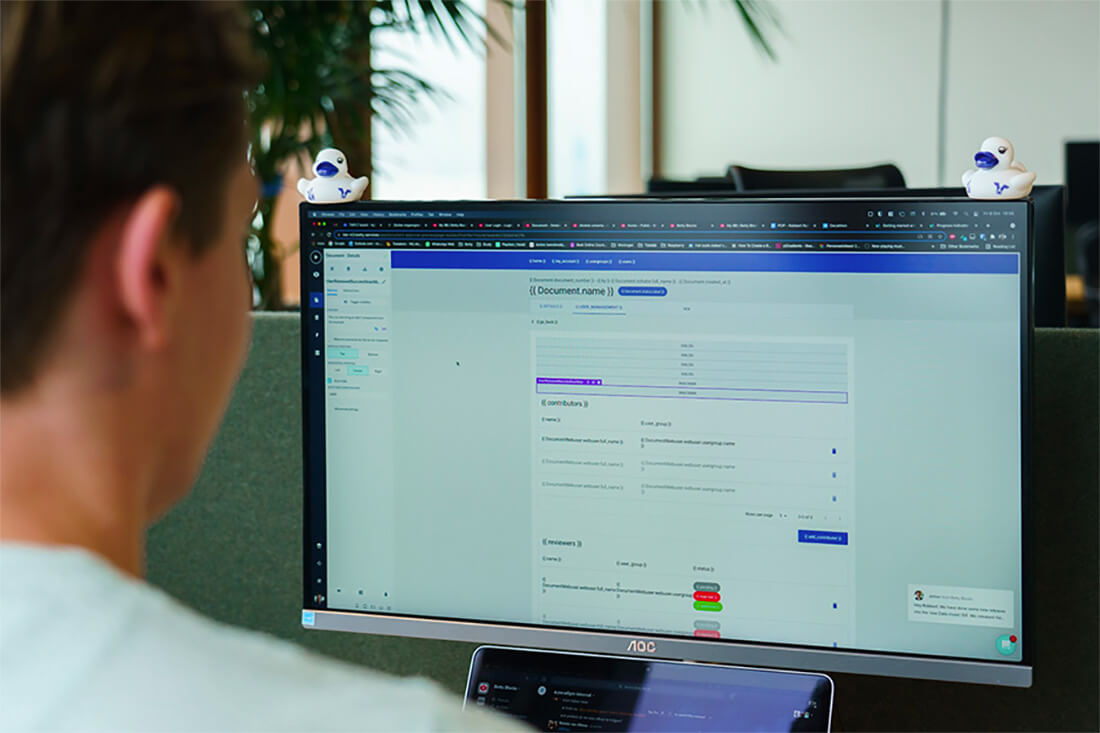 Product features
Dashboarding and reporting capabilities
User capabilities and permissions management
Email notification system
Data table
Integration with existing infrastructure