A bold decision
Among the UK-based law firms that make up the Magic Circle – five of the most prestigious law firms in the world – is Clifford Chance. With offices in 23 countries, Clifford Chance advises its clients on all aspects of commercial law. In a traditional industry, Clifford Chance made the bold decision to direct its technology capabilities beyond its day-to-day operations to focus on transforming its legal services delivery as part of its Innovation & Best Delivery strategy.
Driving automation in legal services
Peter van Eijk heads-up the Legal Technology Services and Innovation team whose focus is on developing innovative new solutions to digitize and automate processes. The end goal is to empower lawyers to bring more value to clients through using their extensive skills and knowledge, rather than spending their time on repetitive admin tasks.
Peter notes that
legal services
delivery is full of opportunities to redesign processes, identify the most relevant resources and technologies to optimise and automate workflows. 
Most of those activities revolve around "documents", giving great opportunities to move out of the mailbox and Word documents towards digital workflows. This brings many additional benefits to its staff and clients, including quality and error controls in the data and workflows, transparency on the status of the work and faster reporting, but also generating telemetry data that the process owners can use to identify further areas for optimisation.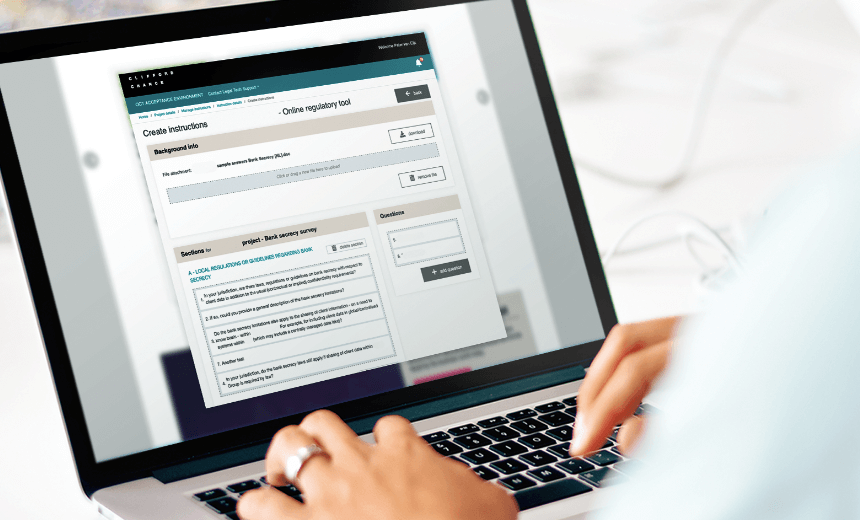 "Having used the platform for a number of data collection and data publishing tools has been very successful."
Bridging the gap between Legal Teams and Technology Teams
There is always more to the challenge of modernizing a workflow than developing a tool, with Peter noting that, "IT-thinking is the opposite of lawyer-thinking." By this, Peter means that lawyers are risk-focused; they look for flaws. IT professionals, on the other hand, understand that flaws are an inevitable part of innovation and that continuous improvement is essential.

This division between Legal teams and Technology teams is a universal challenge and Peter needed a solid strategy to demonstrate solutions in progress to help Legal teams better visualize and refine quickly and iteratively their needs. The strategy Peter needed was made possible by low/no-code.

In his eighteen years at Clifford Chance, Peter observed that the longer it takes to develop a solution, the greater the perceived risk to lawyers and the more likely it is that the solution will not meet the needs and adoption poor. Because the Betty Blocks no-code platform enabled Peter to shorten the software development lifecycle (SDLC), it helps more easily iterate on the emerging requirements and start earlier to use the solution.

The rapid prototyping capabilities afforded by the platform, combined with the use of agile development methodologies, enable Technology teams to be much more responsive to feedback, making for much better alignment between the two sides and, ultimately, more effective solutions.