Clifford Chance
is one of the world's leading law firms and a member of the Magic Circle - the most prestigious law firms based in the UK. Clifford Chance operates in over 23 countries, and advises clients on all aspects of commercial law.
In the last years Clifford Chance has faced a number of challenges with workloads going up and having less capacity, which has impacted business operations. Simultaneously, the adoption and delivery of digital solutions for optimizing processes, increasing agility, responsiveness, and internal satisfaction continues to take a lot of time and considerable effort.
To respond to these challenges, Clifford Chance's Legal Technology & Innovation Team developed a specific low-code / no-code (LCNC) development strategy aiming to bring ideas to solutions in a more effective and efficient way. Using low-code, Clifford Chance aims to independently and rapidly build digital solutions that help grow internal collaboration, efficiency, and employee satisfaction.
Using Betty Blocks, Clifford Chance is able to rapidly build solutions within three months, boost internal efficiency by a predicted 45-60%, and add value to customer satisfaction.
Optimizing business operations and agility
A key element to Clifford Chance's success is its Legal technology & Innovation Team - responsible for collecting ideas, identifying the right opportunities, developing prototypes and deploying day one solutions. Peter van Eijk - Manager of the Legal technology & Innovation Team - has been with Clifford Chance for almost 20 years and is quite familiar with the way his organization operates and where technology can add value. He describes Clifford Chance's key goals as:

1. Optimize internal business operations

Like many organizations in various industries these days, Clifford Chance experienced the challenges of decreasing human resources combined with increasing workloads. More work to do but less people to do it with increases the urgency of leveraging technology to automate and digitize manual workflows and tasks. With the right tooling at the right part of their business process, Clifford Chance could significantly optimize business operations while ensuring the right levels of control and quality. Meanwhile lawyers are not held back by their responsibilities, experience more work satisfaction, and can focus on elevating their client support.

2. Increase collaboration and agility

It can be challenging for Technology and Legal practice teams to collaboratively build and rapidly deploy digital solutions. The longer the development of a solution takes, the higher the chances are that functionality won't meet requirements, and that adoption will be difficult. Meanwhile, slow development means that an organization is not always able to respond to fluctuations in the market and respond to clients' needs The quicker Clifford Chance can build, deploy, or adjust a digital solution the more successful they will be.
For scalable, future-proof solutions that can be built out or enhanced any time, Betty Blocks is the right choice

Peter van Eijk - Manager Legal Technology & Innovation
Rapid application development
Clifford Chance is therefore always keen to adopt digital solutions that allow rapid, adaptable, and agile ways of product development. Betty Blocks was on boarded as one of the first platforms within the firm to support their LCNC development. This enables Clifford Chance to quickly and collaboratively build bespoke solutions. With Betty Blocks, customers are able to start with standardized templates and build using a visual drag-and-drop interface. Meanwhile, pro-coders can extend capabilities with custom components, and turn these back into no-code blocks for the business.

Betty Blocks thus enables a collaborative building process where subject matter experts and end-users are involved throughout the software development process. Meanwhile, by building these tools internally, Clifford Chance ensures they are less reliant on third-party vendors, external developers, or off-the-shelf-products. Instead they can build, adjust, or extend applications independently - instantly responding to internal or client needs. By leveraging LCNC development, Clifford Chance has established the ability to build from an idea to a solution within less than three months.
A team of LCNC developers
Clifford Chance's journey with Betty Blocks began with being trained by and building the first use cases in collaboration with the delivery partner Ilionx. Through this, Clifford Chance was given all of the training, best practices, and guidance to form a team of developers dedicated to LCNC solutions. Together they built up Clifford Chance's development toolkit, complete with the right templates, integrations, functionality, branding, and governance. This accelerates the application development and delivery pipeline.

The LCNC development team at Clifford Chance is composed of developers with various coding capabilities. While no-coders execute quickly on simpler tasks, pro-coders are used to extend the capabilities of and add functionality to Betty Blocks solutions. This is a key benefit of the Betty Blocks platform - enabling the collaborative building of different developers for quick, limitless development.
Key benefits of low-code development
Predicted efficiency boost of 45-60%
By replacing a time-consuming, error-prone process, Clifford Chances lawyers will have more time to focus on bringing value to their clients.
Applications launched in three months
A faster software development lifecycle resulted in greater business-side enthusiasm
Data is now easily accessible
Accurate and easily accessible data is key to efficiency and developing more personalized services.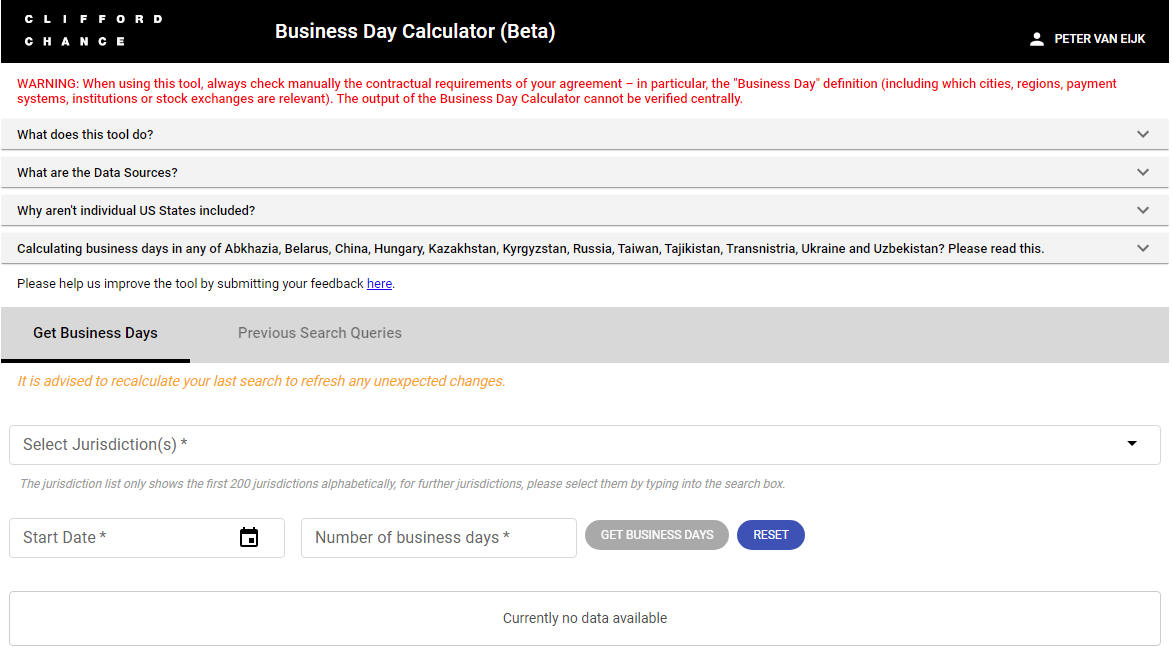 Driven by real business needs
An important element for Clifford Chance's success is identifying internal business needs to drive their LCNC projects. This is achieved by using an Ideation Platform where users can post innovation ideas, problems and solutions, and future opportunities. As a result, Clifford Chance's innovation is driven by the people who have the best understanding of business, market, and client needs. Meanwhile, the organization builds or procures tools which make the organization more effective, efficient, and happy.

By putting all ideas through a rigorous validation process the Legal Technology & Innovation Team ensures that building resources are put into real business needs - a key element of success. Submitted ideas are assessed based on building feasibility and platform fit, their added value and ROI.

Importantly, Peter emphasizes that "Added value is not only reflected in ROI or increased revenue. Sometimes smart solutions just make people happy; increase internal satisfaction and make clients feel secure and supported". These are the benefits of digitization which, though harder to measure, are just as crucial.
Three months from idea to launch
With a fully independent and skilled LCNC development team and a supply of validated use cases, Clifford Chance has established a rapid application development pipeline that has the potential to progress a solution from an idea to launch in less than three months.

Once an idea has been matured into a fully scoped use case by Legal Technology & Innovation Team the LCNC developers can build a prototype within a three or four days. From here, the team builds using agile development processes: short iterative cycles where the product is built in increments. User feedback is consistently provided and used to determine the next development steps, thus implemented directly into the product.

This method of development ensures constant alignment between IT (the builders) and the business (the end-users). Additionally, the functionality of the custom-built digital solutions map exactly onto the requirements. According to Peter "The building process is a three-way collaboration between the end-users, the builders, and the legal technology" - this ensures success.

The Betty Blocks platform thus enables Clifford Chance to execute extremely quickly, reducing the real development time to a matter of weeks. This increase in development speed can equate to an estimated 45-60% boost in efficiency. Meanwhile, Clifford Chance has a system for immediately and efficiently responding to the most pressing internal needs and market fluctuations.