Experience the benefits of a Non-Disclosure Agreement Generator
Through a digitized NDA Generator, legal firms and departments can create NDAs which are fully customizable, properly governed, documented, automated, and efficient. Provide your employees with a self-serve solution that saves time across your organization and optimizes your customer offer.
Try it for yourself!
In our Betty Blocks templates, we have an NDA Generator. With our pre-existing templates, you can quickly get started with an application and customize it as much as you like.
Click login to try the application yourself.
Background
A Non-Disclosure Agreement (confidentiality agreement or confidential disclosure agreement) is a binding contract where all signing parties make a mutual agreement to keep specific information confidential. This can be confidential information regarding employment or service, purchase or sale, invention or patent, etc. NDAs are crucial, but a time-heavy and complex responsibility for legal departments. Through the use of an NDA Generator, the process is optimized, digitized, and governed end-to-end.

NDA generation is a long and convoluted process, in which business users regularly have to ask legal departments to create templates or give guidance for tailored or bespoke agreements. With an NDA generator, users can self-serve, customize, and edit agreements according to their needs. Users are guided through questionnaires that enable the creation of complete and bespoke NDAs based on customizable templates and designs (provided by the legal department). This saves time and decreases dependency across your organization while eliminating errors and the use of inappropriate or outdated templates inevitable in manual work. Meanwhile, your legal department controls the NDA content, constantly ensuring compliance with internal and external (legal) requirements. The process is governed end-to-end as your legal department coordinates user capabilities, as well as oversees and audits a fully digitized and transparent process.

Using the Betty Blocks platform, legal firms and departments can custom build an NDA Generator, automating and optimizing a crucial process. This allows all your NDAs to be created, distributed, and signed on one digitized, fully integrated, configurable, and customizable LCNC platform.
Efficient
Increase efficiency for everyone involved with NDAs: those creating, owning, governing and signing.


Decrease dependencies between business users and legal departments, saving you time and resources.


Enable your business users to independently generate NDAs while legal departments govern the templates, contents, and workflows.
Eliminate inevitable human errors and the use of outdated templates due to manual work.


Optimize the signing process as NDAs are generated, sent, and signed within the same application at a fraction of the time.
Digitized
Optimize and digitize the process of creating, sending, singing, and receiving NDAs through an NDA generator.
Simplify your NDA generation through an easy-to-use and user-friendly interface.


Automate the signing and sending of your NDAs between your business users, legal departments, and clients.
Track, oversee, and audit all of your NDAs from one digitized platform.


Integrate with your existing infrastructure and applications to automate the process end-to-end.



Secure and bespoke
Govern your NDA generation process end-to-end with a fully customizable application catered to your organization's specific needs.


Maintain uncompromised quality and compliance of your NDAs according to internal and external (legal) requirements.


Audit and govern through an application that makes the process fully digitized and transparent.
Customize your NDA generator according to the needs of your organization, creating a specific and bespoke application with various templates, questionnaires, features, and user capabilities.


Safeguard any confidential information and agreements through a secured, compliant, governed application.
App Development The Betty Blocks Way!
1. Plan
The first stage: understanding what needs to be built and what the initial steps to a successful application are.
The Betty Blocks Platform empowers new types of (citizen) developers. This gives everybody access to join the process. Join a workshop or our online academy and learn how to create your first workflow and wireframe in hours.
2. Build
The most exciting part: the moment where everyone can contribute.
Through Betty Block's simple drag and drop functionality, you can create your interfaces. Without writing a single line of code you can configure workflows, visually define how you want to store your data, and customize your application.
3. Release
Once you've built something it is time to delight your audience.
By running tests in various sandboxes people are encouraged to play around without having a fear of breaking things. Everyone satisfied? Great! Release to production and instantly share your work via link with the world.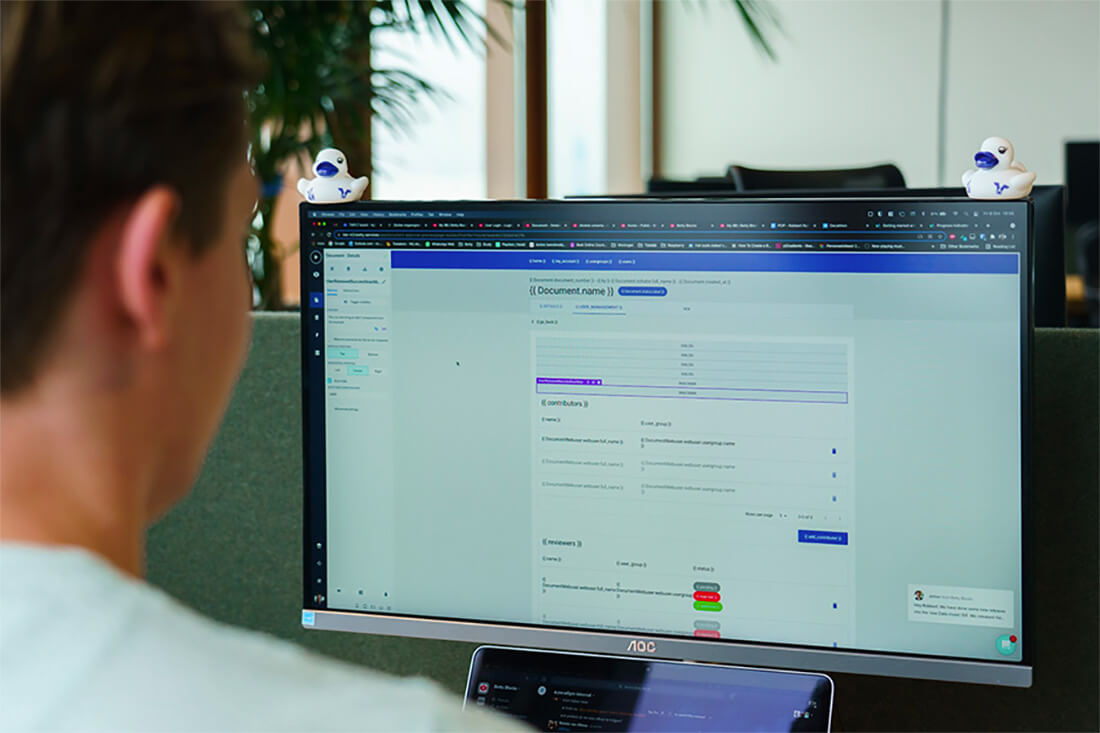 Product features
Dynamic and bespoke questionnaires
Customizable themes and in-house styles
Integration with existing applications
(Internal and external) Workflow approvals
Auditing and reporting functionalities
User capabilities and permissions management